Cliff Newell On the Issues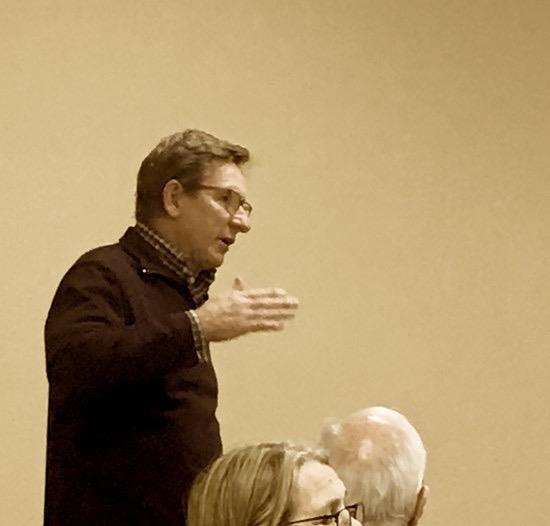 Cliff Newell expands on the issues concerning Cannabis, Homelessness, Re-Alignment and Recidivism, Substance Abuse, Victims Services, Domestic Violence, and other pressing criminal justice areas.
Dr. Terry McAteer and Cliff Newell discuss Cannabis.
VICTIMS ARE MY PRIORITY
Crime Victims deserve the best services we can provide.

When first elected to District Attorney in 2006, victim services were facilitated by Nevada County's Probation Department. Probation did a good job of building the program, however, I felt that there could be better and more direct services provided to crime victims if the program was housed within the District Attorney's Office.
In 2010, my office took over administration and housing of the Victim/Witness Program. This change allows for better and more frequent contact between victims, advocates and prosecutors. Since that time we have focused our efforts on direct services for victims and witnesses. Although the primary focus is for victims of violent crimes, we endeavor to provide service to ANY victim of crime. Our data shows that we have provided a much higher level of service since the program became a unit within our Office.
In the tragic event of a criminal homicide, or other violent crime, the victim survivors are embraced and engaged in our prosecutions to the degree they are comfortable. They are provided a caring Victim Advocate to keep their perspective and desires known. The office structure ensures that the Victim Advocate is independent from the prosecutors with the victim's best interest as the primary focus. Victims are consulted for input before, during and after case resolution and their feelings solicited at sentencing.
My office maintains strong advocacy for victims.


---
CANNABIS INDUSTRY AND RELATED ISSUES
Cliff's position on Cannabis, Industry and Issues:
Dr. Terry McAteer and Cliff Newell discuss Cannabis.
With the passage of Proposition 64, legal marijuana became a fact of life and the letter of the law. Now that cannabis is a legal product, it will be regulated at both the state and local level, just like any other commercial product. Cannabis should also be taxed fairly and commensurate with its level of impact on the community. Legal cannabis businesses that operate within the parameters of the law will be allowed to operate without interference.
However, illegal operations, or individuals who violate the law, should be held accountable, for both the good of the community as a whole, as well as the legitimate cannabis businesses who would be harmed by these offenders. Responsible regulation and enforcement of the law is critical to the successful integration of cannabis into our local economy.
In order to ensure public safety and fair treatment for all, we must have reasonable land use regulation, and consistent enforcement for violations of both laws and regulations.
We must also be vigilant to ensure environmental protections, focusing on those seeking an advantage by not following the local requirements, regulations and state law. As with any legally regulated product, those individuals who skirt the law, to the disadvantage of the legitimate business people in the community, will be held accountable.
Most importantly, from a public safety perspective, violent offenders who come to our community to target cannabis-related businesses are a real threat to all citizens of our community, and it will remain a priority of my office to severely prosecute those offenders. The primary mandate of the District Attorney's Office is the safety and well-being of the community, the whole community, and I will continue to abide by this mandate as our community adjusts to this change in the law.
---
HOMELESS IN NEVADA COUNTY
Cliff Newell discusses homelessness in Nevada County with Superior Court Judge Al Dover, retired, in the NCTV series "Where do We Go From Here?"
HOMELESSNESS IN NEVADA COUNTY
---
REALIGNMENT and RECIDIVSIM
What is Realignment? And what does it mean to you?
My highest priority is to fulfill my Constitutional mandate to prosecute crime vigorously and keep the public safe.
That is why I am your District Attorney.
And yet, there is an issue looming.
We have been given a mandate by the California State legislature and the citizens of the State of California that we, as the criminal justice system, shall do business differently when it comes to rehabilitating the convicted.
This is Realignment. And it effects you. It is the primary reason we see the "revolving door" of repeat offenders that we read about in the newspapers.
This mandate requires a completely different strategy from all of the involved agencies. Success will be gauged by continuing to have a safe community while effectively reintegrating people back into our society. A less adversarial and more collaborative approach is indicated to achieve this mandated goal.
The District Attorney's Office does and will continue to work closely with Probation, Corrections, Health and Human Services and Law Enforcement to hold offenders accountable and simultaneously meet the legislative mandate to successfully rehabilitate.
We have not fully realized the impact of Realignment in Nevada County because we have a lower crime rate here and generally send fewer people to prison.
However, as the more populated counties have experienced, our numbers will increase. The key will be to focus our resources on the appropriate offenders and continue developing alternative programs. The importance of alternative programs and rehabilitative options is already clear as we keep more offenders locally and as the State continues to release prisoners back to Nevada County.
I will continue to work proactively with the Nevada County Community Corrections Partnership (CCP) to ensure we have a voice on how the CCP funds are spent in the community between corrections, probation, mental health and treatment. I will remain involved with the Probation and Sheriff Departments and Courts to develop a workable Supervised Pre-Trial Release Program that insures a defendant's appearance and public safety. As part of the realignment strategy I will attempt to create a new part-time Deputy District Attorney position to work solely with collaborative courts and community integration programs, and to review pretrial releases. This position will help inspire and enforce the individual accountability that Realignment must have to be successful.



---
Substance abuse continues to be a threat to public safety and a primary concern.
Read More
---
DOMESTIC VIOLENCE IS NOT TO BE TOLERATED
The incidence of Domestic Violence has decreased in Nevada County since 2006. Several factors contribute to this decrease: pro-active involvement of our non-profit partners, effective law enforcement and appropriate and vigorous prosecution.
There is still more to do.
Read More
---
There should never be a "bargain" for a plea, it should be based on the specific strengths and weaknesses of a case, victim's input and probability of conviction with an appropriate sentence thereafter.
Read More
---
Worker's Compensation Fraud is an underground economy that costs millions of dollars each year to the citizens and employers of California.
Read More
---
PUBLIC SAFETY IS MY FOCUS. As a former probation officer, and former prosecutor in Sutter and Nevada Counties, I have the front line experience asserting victim's rights and fighting for public safety. PUBLIC SAFETY HAS ALWAYS BEEN MY PROFESSIONAL FOCUS.
Read More
---
It is critical that we move to a more modern way of doing business. "We do more with less."
Read More